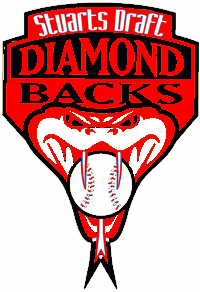 D-backs open quest for harmony

By Hubert F. Grim III/staff

hgrimiii@newsleader.com

STUARTS DRAFT — It's time for Stuarts Draft Diamondbacks baseball.

Ready or not, Augusta County's entry in the Rockingham County Baseball League opens its 2007 season at 7:30 p.m. tonight at The Diamond Club against Elkton.


The third-year organization is coming off an impressive 2006 campaign that saw the Diamondbacks finish 18-9, which was good enough for third place in the RCBL.

"That was one of the most harmonious teams I've ever had," said Diamondbacks manager and owner Orvin "Tinker" Kiser. "All the guys got along and just wanted to play baseball."

Kiser said this year's roster has a lot a familiar faces from 2006, although he admits there are some holes to fill.

The infield is missing Shelton Stevens, who is serving a summer internship with the Florida State football strength and conditioning program, and Robbie Cook.

The pitching staff is also minus key starters Drew Dobbins, who will be pitching this summer for the Waynesboro Generals in the Valley Baseball League, Josh Deavers and Evan Durrer.

But Kiser thinks he has put together a strong staff, led by the return of Bubba Pulley. Pulley has pitched in only three games during the past two summers for the Diamondbacks, but is ready to play on a regular basis in 2007. The former Stuarts Draft and Concord University standout has drawn the starting assignment tonight against Elkton.

The pitching staff also features southpaw Brandon Zollman, who plays at Eastern Mennonite University, Stuarts Draft High School ace Michael Moles, former Wilson Memorial standout Seth Berry, current Rockbridge County High School starter Wes Harlow and veterans Randall Stevens and Dustin Jones.

Stevens threw in middle relief and made spot starts last season, while Jones is back as the team's closer.

Lefty Dave Waksmunski and Matt Ramey are also on the pitching staff.

"I think we are going to be OK in the pitching department," Kiser said.

The Diamondbacks' infield has power-hitting J.R. Estes are first, Kent Burford at second, Harlow at short and Berry at third. Zachary Goodyear will also see time at second and third, while Zac Marion will spell Estes at first. Ramey can fill in at short.

Trip Kiser is scheduled to work behind the plate.

Stuarts Draft's strong suit may be its outfield, which returns intact.

"I think our outfield is the best in the league," Kiser proclaimed.

From left, the Diamondbacks feature Zollman, Brian Sandridge and Mark Balderson. Veteran Buck Birkhead fills in right and also is the DH.

Homer Coffey and Rajah Jenkins provide depth in the outfield.

Jeff Templeton returns as Kiser's assistant coach.

"I like the makeup of this team," Kiser said. "Our success depends on how well we jell. That wasn't a problem last year, and I hope it's the same way this time around."

Kiser will get a quick assessment of his team, because the Diamondbacks are home again Monday against the Bridgewater Reds.


Diamondbacks split pair with Broadway

Staff Report

The Stuarts Draft Diamondbacks split a weekend, home-and-home series with Broadway in Rockingham County Baseball League play.

The Diamondbacks dropped a 5-4 decision Saturday at home, then pulled off a 4-1 victory Sunday at Broadway.


Brandon Zollman allowed one unearned run and two hits during six innings on the mound Sunday. He struck out 10. Seth Barry finished the final three innings for the save, allowing one hit and striking out five.

Trip Kiser paced Draft's offense with a 2-for-4 night, smacking a double and a triple. Barry was 1-for-3, with a double.

Bubba Pulley suffered Saturday's loss by allowing four runs and six hits during five innings. Matt Ramey pitched four innings, allowing one run on three hits.

Zack Goodyear went 2-for-3, with a double, and Ragah Jenkins was 2-for-5.

The Diamondbacks (2-2) host the Shenandoah Indians at 7:30 p.m. today.

Diamondbacks clip Montezuma

MONTEZUMA — In a rain-shortened game Tuesday night, the Stuarts Draft Diamondbacks defeated the Montezuma Braves 2-1 in Rockingham County Baseball League action.

The game was stopped with two outs and a runner on second in the bottom of the seventh inning because of lightening. After a one- hour delay, the game was officially called, giving the Diamondbacks the victory.


Seth Berry went the distance, improving his record to 3-0. Berry gave up one earned run on three hits and three walks,while striking out six batters. He also contributed to his own cause by going 2-for-4 with a double and one RBI.

Matt Fisher had a double and Zack Goodyear drove in the winning run with an infield hit.

Draft raised its record to 8-4.

Shockers clip Draft


Staunton News Leader staff report
NEW MARKET — The Stuarts Draft Diamondbacks lost in extra innings Wednesday night to the New Market Shockers, 5-4, in Rockingham County Baseball League action.

Seth Berry threw the first seven innings, giving up four runs on six hits, with four walks and four strike outs. The final 2 2-3 innings were thrown by Michael Moles, who gave up one unearned run, two hits and a walk, while striking out two.


Offensive leaders for the Diamondbacks were Matt Fisher, who went 2-for-4 with a home run and a pair of RBIs. Brandon Zollman, Mark Balderson, and Randall Stevens each had three hits.

The Diamondbacks (9-8) play Sunday at Elkton.

Diamondbacks, Bruins suspended


Staunton News Leader staff report
STUARTS DRAFT — The Stuarts Draft Diamondbacks battled the Broadway Bruins for 11 innings Sunday night when the rain and lightning suspended the contest tied 0-0. The game will resume at a later date.

For the second straight game, the Diamondbacks played an error-free game, while the pitching was outstanding. Brandon Zollman started the game for the Diamondbacks and went seven innings, giving up no runs on five hits and two walks. Zollman struck out 13. Dustin Jones threw three scoreless innings, giving up one walk on two hits while striking out four. Michael Moles preserved the shutout throwing the 11th inning, giving up one hit and striking out one.


Kirk Messick, last year's Rockingham County Baseball League's pitcher of the year, went the distance for Broadway.

The Diamondbacks (9-7) play on the road for the next two weeks and will not return home until July 9.




Eight D'backs head to All-Star Game

By COURT WILLS

cwills@newsvirginian.com

Monday, July 9, 2007

For the second straight year the Stuarts Draft Diamondbacks are sending eight players to the Rockingham County Baseball All-Star Game.

The showcase for the best the RCBL has to offer is Saturday at Broadway.

"It's nice to be recognized by the league as one of the best players," Diamondbacks coach Orvin "Tinker" Kiser said.

Five are position players- Brandon Zollman, Buck Birckhead, Matt Fisher, Rajah Jenkins, and Trip Kiser - while the others are pitchers Dustin Jones, Randall Stevens and Seth Berry.

One must maintain a batting average of .300 or better to qualify for the position/hitter while the pitcher's stats are based on number of wins, strikeouts and saves.

"Even though you have that one day off, you still get to spend it with some of your teammates, building up that bond," Zollman said.

Unlike the Valley League, the RCBL allows coaches to choose up to eight players. This year Elkton has the highest with nine ahead of the Diamondbacks.

During Stuarts Draft's first year, the Diamondbacks only had six representing the team because of a 15-man roster, but with a 26-man roster this season about one-third of the team is headed to the big game.

"I'd like to think it's because of talent. Some of our guys are on skids, but they're coming out of it," Kiser said. "Now we just gotta start playing like all-stars when we get back."

However, this year will be a little different for Berry.

The past two times Berry has participated in the All-Star game, he went as a utility player.

Berry didn't mind because that's what Kiser needed him to do at time even though his first love was pitching.

"You have to put guys where you need them the most," Kiser said. "He did quite a good job of it."

This year he will be representing the Diamondbacks as one of the best pitchers in the league, sporting a 3-1 record with 41 strikeouts in 41 innings and an ERA of 3.29.

"It's good stuff," Berry said. "It's definitely something I've tried to achieve since the beginning of the year."

Together, Zollman, Birckhead, Fisher, Jenkins and Trip Kiser have accrued 93 hits, 54 runs, 49 RBI, 17 doubles, five triples, and six home runs.

Berry, Jones, and Stevens have 99 strikeouts in 92 1/3 innings.

Contact Court Wills at 932-3569.